Spotlight on History
A Day at the Museum
5/1/2021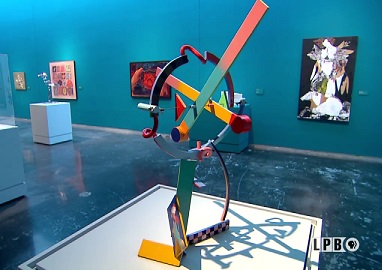 The LDMA is enjoying a virtual Day at the Museum this month in honor of International Museum Day on May 18th! Through the years, LPB has visited exhibits on a wide variety of topics at both large and small museums around Louisiana. Explore exhibits of both local and international art, local history, ancient artifacts, and natural history. Here is a sampling of our museum stories:

View an exhibit of Matilda Geddings Gray's Faberge collection at the New Orleans Museum of Art.

Watch a tour of The Sun King: Louis XIV and the New World, an exhibition of French art at the Cabildo in New Orleans.

See an exhibit of Louisiana's contemporary masters at the Zigler Art Museum in Jennings, including Robert Rucker, John Campbell, and William Tolliver.

View a visit to the Cenote of Sacrifice exhibit at the Louisiana Science Center in New Orleans, a collection of Mayan artifacts found in a well in the sacred city of Chichen Itza.

Watch a visit to the A Tribute to Excellence art exhibit at the Masur Museum of Art in Monroe featuring the work of 22 Louisiana artists honored with arts fellowships.

See an exhibit on the history of Louisiana coffee roasters at the Imperial Calcasieu Museum in Lake Charles, including Community Coffee, French Market Coffee, Mello Joy, and Jelks Coffee.

View a visit to this museum in Long Leaf, a former mill town operated by the Crowell Lumber Company, including a look at the newly restored M4 passenger rail car from the 1930s.

Watch a visit to the Louisiana Film Museum exhibit at the Louisiana State Archives in Baton Rouge highlighting the more than 600 movies produced in the state since 1898.

See a visit to Quilt the Swamp, an annual show at the Bluebonnet Swamp Nature Center in Baton Rouge that showcases textile art based on nature themes.

Enjoy a tour of the Louisiana Sports Hall of Fame and the Northwest Louisiana History Museum in Natchitoches.

Take a tour of the LSU Museum of Art in Baton Rouge, including several galleries of paintings by Louisiana artists and a look at the museum's silver and Newcomb pottery collections.

Tag along for a visit to the new permanent Juke Joint exhibit at the West Baton Rouge Parish Museum in Port Allen.

See a visit to the Louisiana State Exhibit Museum in Shreveport, including a look at a Caddo dugout canoe and a diorama of Poverty Point.

Watch a visit to the Hall of Birds exhibit at the LSU Museum of Natural Science in Baton Rouge.
To see more stories, check out the complete Day at the Museum topic.