Spotlight on History
Remembering Governor Buddy Roemer
5/17/2021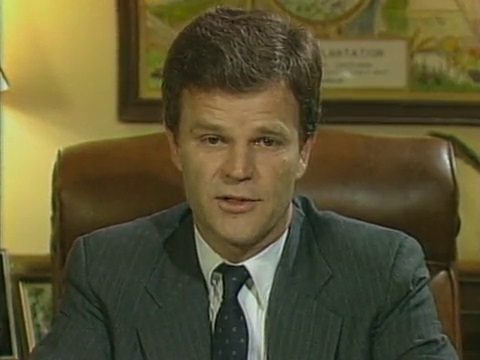 We're remembering Governor Buddy Roemer, who has died at age 77. Roemer, a native of Bossier Parish, served as a delegate to the 1973 Constitutional Convention and represented Louisiana's 4th Congressional District from 1981-1988. He later served as Louisiana's 52nd Governor from 1988-1992. In a rare move for a sitting governor, Roemer changed his party affiliation from Democrat to Republican in March 1991. Here are a few of our best stories on Governor Roemer:

See Roemer's first appearance on LPB in this Louisiana: The State We're In report on a debate between the six candidates for the 4th Congressional District.

In this report from Louisiana: The State We're In, see Congressman Roemer weigh in on the retirement of Russell Long and Louisiana's negative national image.

Watch LPB's gubernatorial debate between the five candidates for governor – Roemer, Billy Tauzin, Edwin Edwards, Jim Brown and Bob Livingston.

Watch LPB's coverage from Louisiana: The State We're In of the election of Buddy Roemer following Edwin Edwards' decision to drop out of the run-off election.

See LPB's live coverage of the inauguration of Governor Buddy Roemer at the State Capitol, including his swearing-in by former Senator Russell Long.

View LPB's live coverage of Governor Roemer's address to the people from the Governor's Mansion in Baton Rouge on May 3, 1988.

Watch Governor Roemer participate in a Louisiana's Governor's Symposium along with former Governors John McKeithen and Dave Treen.

View a McLeod Lecture Series panel discussion on the power of the Louisiana governor with Dave Treen, Buddy Roemer, and Mike Foster.

See a profile of Governor Roemer and his speech accepting his recognition as a Louisiana Legend at the 2010 gala.

Watch Governor Roemer discuss his early life and political career in this Louisiana Legends interview with host Beth Courtney.

In this interview from Louisiana: The State We're In, see Governor Roemer discuss his 2014 stroke and his book, Scopena: A Memoir of Home.
To see more videos of Governor Buddy Roemer, click here.