Spotlight on History
A Year of Governors: Dave Treen
6/15/2019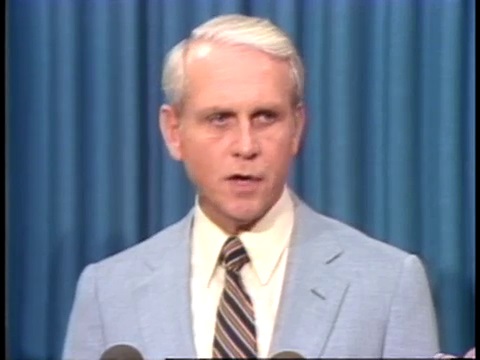 2019 is the Year of Governors on the LDMA! Before the gubernatorial election in October, we'll be highlighting a different Louisiana governor on the 15th of every month.
This month, we're continuing our series with Governor Dave Treen (1928-2009). Treen, a native of Baton Rouge and resident of Metairie and Mandeville, represented Louisiana's 3rd Congressional District from 1973-1980. He later served as Louisiana's 51st Governor from 1980-1984 and holds the distinction as the first Republican Governor elected since Reconstruction. He died on October 29, 2009, at age 81. Here are a few of our best stories on Governor Treen:

Watch a Louisiana: The State We're In profile of Congressman Treen during his campaign for the 1979 gubernatorial election.

View two LPB debates between the run-off candidates for governor, Congressman Treen and Public Service Commissioner Louis Lambert. See part 2 here.

See LPB's live coverage of the inauguration of Governor Dave Treen at the State Capitol. This marks LPB's first broadcast of a gubernatorial inauguration. View part 2 here.

In this interview from Louisiana: The State We're In, see Governor Treen discuss the major issues facing the state in 1982.

View this in-depth profile of Governor Treen from Louisiana: The State We're In as he prepares to run for re-election against former Governor Edwin Edwards.

See LPB's Beth Courtney moderate two debates between Dave Treen and Edwin Edwards. You can view the second debate here.

Watch Governor Treen participate in a Louisiana Governor's Symposium along with former Governors John McKeithen and Buddy Roemer.

View a McLeod Lecture Series panel discussion on the power of the Louisiana governor with Dave Treen, Buddy Roemer, and Mike Foster.

See a profile of Governor Treen and his speech accepting his recognition as a Louisiana Legend at the 2007 gala.

Watch LPB's live coverage of Governor Treen's memorial service at the Louisiana State Capitol on November 2, 2009.
To see more videos of Governor Dave Treen, click here.

Join us on July 15th to learn more about the life and career of Buddy Roemer.