Spotlight on History
A Year of Governors: Edwin Edwards
5/15/2019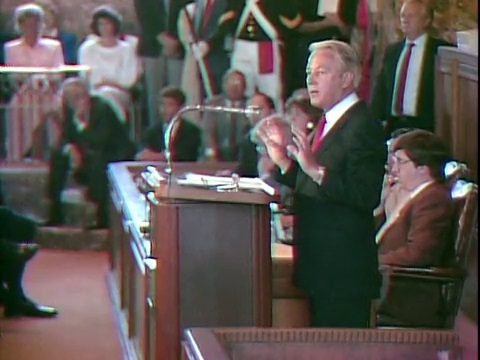 2019 is the Year of Governors on the LDMA! Before the gubernatorial election in October, we'll be highlighting a different Louisiana governor on the 15th of every month.
This month, we're continuing our series with Governor Edwin Edwards (b. 1927). Edwards, a native of Avoyelles Parish and resident of Crowley, represented Louisiana's 7th Congressional District from 1965-1972. He later served as Louisiana's 50th Governor from 1972-1980, 1984-1988, and 1992-1996 and holds the distinction as Louisiana's only four-term governor. After his last term in office, Edwards served eight years in federal prison on racketeering, extortion, money laundering, mail fraud, and wire fraud charges. In 2014, three years after his release from prison, Edwards made the run-off in an election for Louisiana's 6th Congressional District. Here are a few of our stories on Edwin Edwards:

See LPB's earliest profile of Governor Edwards as he discusses the major issues of the 1978 Legislative Session on Louisiana: The State We're In.

In this interview from Louisiana: The State We're In, watch Governor Edwards reflect on his first two terms in office.

View this in-depth profile of Edwards from Louisiana: The State We're In as he prepares to run for his third term against Governor Dave Treen.

See LPB's Beth Courtney moderate two debates between Dave Treen and Edwin Edwards. You can view the second debate here.

Watch LPB's live coverage of Edwards' third inauguration at the State Capitol. You can also see his 1992 inauguration here.

View an in-depth Louisiana: The State We're In report on the indictment of Gov. Edwards by a federal grand jury and a look back at his past scandals.

See LPB's Robert Collins moderate the run-off debate between Edwin Edwards and David Duke for the 1991 gubernatorial election.

Check out Governor Edwards' wide-ranging interview on his life and career with host Gus Weill. You can see part 2 of the interview here.

In honor of CABL's 50th anniversary, see Governor Edwards participate in a panel discussion with former Governors Roemer, Foster, and Blanco.

In this interview from Louisiana: The State We're In, watch Edwards discuss his campaign for Louisiana's 6th Congressional District.
To see more videos of Governor Edwin Edwards, click here.

Join us on June 15th to learn more about the life and career of Dave Treen.