Spotlight on History
A Year of Governors: Jimmie Davis
3/15/2019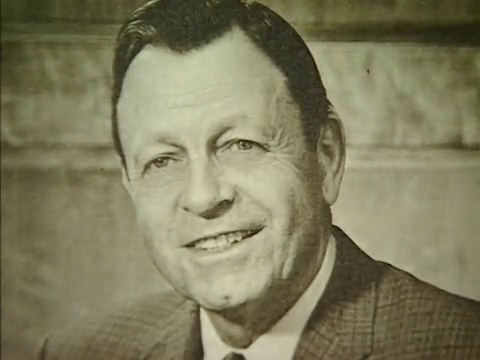 2019 is the Year of Governors on the LDMA! Before the gubernatorial election in October, we'll be highlighting a different Louisiana governor on the 15th of every month.
This month, we're continuing our series with Governor Jimmie Davis (1899-2000). Davis, a native of Beech Springs in Jackson Parish, served as Louisiana's 47th Governor from 1944-1948 and 1960-1964. Prior to his political career, Davis was a country music singer best known for his song, "You Are My Sunshine," which is now designated as one of Louisiana's state songs. Davis was inducted into the Country Music Hall of Fame in 1972. He died on November 5, 2000, at age 101. Here are a few of our best stories on Louisiana's Singing Governor:

In this story from Louisiana: The State We're In, watch a clip of Governor Davis singing his hit song "You Are My Sunshine" at a Baton Rouge Symphony Pops Concert.

See Governor Davis discuss his early life and careers in music and politics in this interview with host Gus Weill. You can also view Part 2 of this interview.

In this story from Louisiana: The State We're In, see Governor Dave Treen & former Governors Jimmie Davis, Robert Kennon, and John McKeithen participate in the Gospel Singing Day at the Governor's Mansion in Baton Rouge.

In this story from Louisiana: The State We're In, see Governor Davis address the Louisiana Legislature for the first time since 1964 and perform his new song, "Louisiana: This One's For You."

Watch Governor Davis discussing his life and career in this oral history interview conducted by the Louisiana State Archives. You can also view his 1993 oral history interview.

View Governor Davis' speech from the inaugural Louisiana Legends Gala. You can also see his performance of "You Are My Sunshine" from the gala.

See this definitive documentary on the life, careers, and legacy of Governor Davis.

In this Louisiana Treasures segment from Art Rocks!, learn more about the saddle Governor Davis famously used to ride his horse Sunshine up the steps of the State Capitol.
To see more videos of Governor Jimmie Davis, click here.

Join us on April 15th to learn more about the life and career of John McKeithen.