Spotlight on History
20 Years of the Louisiana Young Heroes Awards
5/25/2015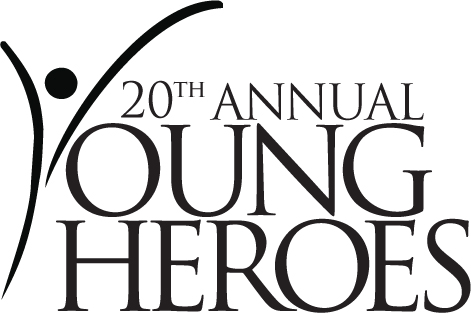 The Louisiana Young Heroes Awards began in 1996. The Rotary Club of Baton Rouge partnered with LPB starting in 1997. To date, 165 students from all parts of the state have been honored. The awards began to spotlight young people who have overcome adversity, excelled in academics or have served their community.
No two Young Heroes have the same story. We have had Young Heroes who have battled various diseases and handicaps, Young Heroes who have saved lives, Young Heroes who have bounced back from horrific events in their young lives, Young Heroes who have tirelessly worked for various charities (and some have even started their own charities!), and Young Heroes who have shared their amazing talents with others. Almost every one of our Young Heroes have something in common – they have gone through "make it or break it" episodes in their lives. These students faced their challenges and dealt with them – some overcame them. Some people would let these same obstacles beat them, allowing themselves to wallow in self-pity. These young people picked themselves up, moved forward, and inspired everyone around them.
No one can tell you what being named a Louisiana Young Hero meant to these students better than the Young Heroes themselves. We asked them what being a Young Hero meant to them. Years later, they still have very fond memories of the experience. This is what a few of our Young Heroes had to say:

"Being a Young Hero has been one of the greatest honors of my life. It has inspired me to dedicate my life to helping the most needy and vulnerable populations in our society."

"Being a Young Hero of Louisiana has set the bar high for me to continue achieving success. I push myself more because I have been named a young Hero and I know I am capable, especially because others believe it too. Being named a Young Hero has been one of the highest honors of my life."

"Thanks so much for making my Young Hero experience amazing."

"It was a great honor and I will always appreciate those who helped me become a Young Hero."

"What has it meant to be a Young Hero - I think it was primarily beneficial in the sense that it was affirmational, it encouraged me to continue to do good for my community knowing that my work was appreciated and valued by others."

"I hope the program continues in the future."

"I was extremely privileged to be a Young Hero. I am constantly reminded everyday of what it means to be a young hero. When some students express to me the constant day to day problems they face. However, they still come to school with a positive attitude and a spirit of determination in and out the classroom."

"I am honored to be a part of a group with people who have done such great things and overcome such tremendous obstacles."

"It has been very important to me to be a Young Hero. It gave me more confidence to continue my organization, Be A Good Sport (BAGS) to help others enjoy their passion to play sports. I am happy to share this honor as well with my brother, Charlton who was a Young Hero in 2011 and my sister, Lucia, who is a current 2015 Young Hero."

"It has been an honor to be a Young Hero. It encouraged me to work harder with my project, BOOKS. I also am happy that my brother (Carter) and sister (Lucia) are also Young Heroes."

"Just to be held in the same category as so many amazing, servant-hearted people is a tremendous honor. Just being around them makes me want to do more for others. I love it."

"Thank you to each and every individual that makes this program possible. The experience and honor of being a Young Hero will forever be a special memory in my heart. This program encourages youth to always strive to make a difference."

"Being a Young Hero has made me even more stronger. I have learned how to overcome obstacles and stay strong during hard times. I have learned to make time for others. This has helped me look at myself in a positive way and serve my community."
To explore the stories of all of the Young Heroes, click here.
The 2015 Louisiana Young Heroes Awards television program will air Monday, June 1st at 8PM on LPB-HD, with an encore showing on Sunday, June 7th at 11AM. For more information on this year's winners, visit the LPB Young Heroes page or the Young Heroes Facebook page.