Spotlight on History
Celebrating Beth Courtney
10/18/2021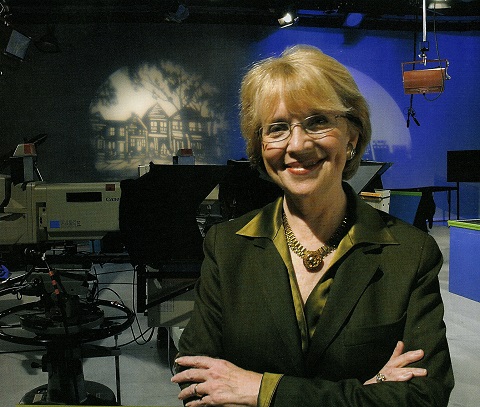 Beth Courtney, the president and CEO of LPB, is retiring after 45 years of service at Louisiana's statewide public television network. In her early years at LPB, she created and hosted Louisiana: The State We're In, a series now in its 45th season. Through the years, she has hosted numerous news and public affairs programs that captured Louisiana history as it happened. Start exploring her wide range of work that has left an indelible mark on LPB here:

Courtney created and hosted LPB's flagship news and public affairs series for nine years. It is now one of the longest-running statewide newsmagazines in the nation.

For over 40 years, Courtney moderated 13 LPB gubernatorial debates helping Louisiana voters understand the issues and decide on their next leader.

Courtney co-hosted LPB's live coverage of nine gubernatorial inaugurations covering Louisiana political history from Dave Treen to John Bel Edwards.

Courtney and her husband Bob visited France to explore the enduring connection between France & Louisiana and to cover Edwin Edwards' fundraising trip to Paris.

Courtney moderated six LPB U.S. Senate debates starting with John Breaux and Henson Moore in 1986.

Courtney hosted the annual Louisiana Legends Gala honoring Louisiana's best and brightest in a wide range of fields.

Courtney hosted a Governor's Symposium with John McKeithen, Dave Treen, and Buddy Roemer in honor of the rededication of the Old State Capitol.

Courtney hosted the annual Young Heroes awards honoring Louisiana middle and high school students who have overcome adversity and served their communities.

Courtney co-hosted a three hour live broadcast honoring Louisiana's World War II veterans and previewing the opening of the D-Day Museum in New Orleans.

Courtney co-hosted this monthly public affairs program aimed at giving Louisiana citizens a chance to discuss important issues facing our state.

Courtney moderated nine of these discussions on Louisiana politics, including panels with past governors, lieutenant governors, and speakers of the house.

Courtney interviewed award-winning PBS filmmaker Ken Burns prior to the premiere of The War, his seven-part documentary series on World War II.

Following in the footsteps of original host Gus Weill, Courtney interviewed Louisianans who made their mark in a variety of fields.

CC '73 Panel Discussion (2013)
Courtney moderated a panel discussion with delegates and leaders from the 1973 Constitutional Convention.

Following the 2016 floods, Courtney co-hosted a live pledge drive to raise money for school supplies for the teachers and students impacted by the flood.

Courtney and her husband Bob shared their memories of covering former Governor Edwin Edwards during his four terms in office.

Watch LPB's look back at the groundbreaking career of Courtney and the development of LPB into a statewide network.