Spotlight on History
Coastal Land Loss
6/1/2018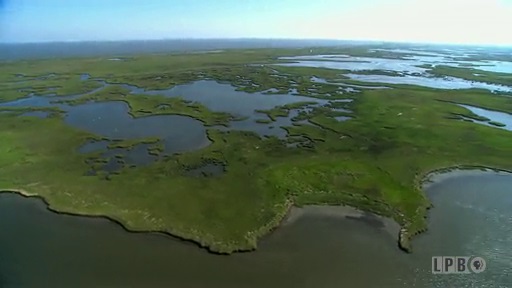 As another hurricane season starts, the LDMA is highlighting stories on Louisiana's coastal land loss crisis and the ongoing efforts to restore the state's coastline. According to the U.S. Geological Survey, Louisiana loses an average of a football field every 100 minutes. For decades, LPB has covered this critical issue. Here a few of the best stories on Louisiana's disappearing wetlands:

In this Louisiana: The State We're In story, see the almost total disappearance of the Pointe Au Fer shell reef chain in the Atchafalaya Bay.

Take a tour of the disappearing coastline at Fort Livingston in Jefferson Parish and Fort Proctor in St. Bernard Parish in this story from Louisiana: The State We're In.

Learn more about the myriad of issues contributing to coastal erosion in this episode of Master Minds: LSU Shaping Tomorrow.

Watch this LPB documentary chronicling the lives of six Louisianans as they struggle to rebuild their lives in the year following Hurricane Katrina and Hurricane Rita.

In this follow-up to Washing Away: Losing Louisiana, see how everyone is doing five years after Hurricanes Katrina and Rita.

View this LPB documentary which examines the causes of coastal erosion in Louisiana, the proposed strategies for coastal restoration, and the competing interests in the region that rely on the coastal zone for survival.

See this Louisiana: The State We're Story on the effectiveness of HESCO baskets in fighting coastal erosion.

In this episode of Louisiana Public Square, learn more about the impact of the 2010 BP Oil Spill on the state's coastal restoration efforts.

Tour a successful coastal restoration project along the levee in Galliano in this story from Louisiana: The State We're In.

Watch this award-winning episode of Louisiana Public Square on the state's 2017 coastal master plan.