Spotlight on History
Food
11/1/2019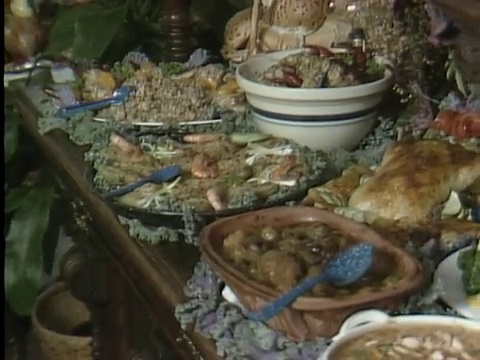 As we eagerly anticipate our Thanksgiving feast on November 28th, the LDMA is highlighting our videos related to food during the month of November. If you want to add a new dish to your traditional Thanksgiving dinner, find a new recipe on one of LPB's cooking series. You can also check out LPB's interviews with famous Louisiana chefs who have helped shape our cuisine.

Watch silent WWL footage of Thanksgiving at the Louisiana Governor's Mansion during the first term of Governor Edwin Edwards.

View Gus Weill's Louisiana Legends interview with the late Chef Paul Prudhomme, the owner of K-Paul's Restaurant in New Orleans.

See profiles of three African American chefs on Folks – Herman Perrodin of Didee's Restaurant, Austin Leslie of Chez Helene, and Charles Bailey of the Capitol House Hotel.

Watch a Folks interview with a 28-year-old Emeril Lagasse during his time as the executive chef at Commander's Palace in New Orleans.

See Chef John Folse prepare a traditional Cajun and Creole Thanksgiving dinner with a Cochon de Lait, Pecan Rice Dressing, and Candied Yams in his first LPB special.

Start exploring 200 episodes of this long-running LPB cooking series as Chef John Folse explores Louisiana's diverse food heritage.

View 26 episodes of Chef D.C. Flynt and Chef Kelly Patrick cooking healthy recipes from California and the Southwest region for Gourmet Food without the Guilt.

Check out all 39 episodes of this LPB cooking series featuring Ms. Lucy's authentic Cajun recipes.

Watch Holly Clegg and Beverly Church sharing healthy recipes and fun decorating ideas for a variety of party themes.

See the late Chef Leah Chase discuss her life and career at Dooky Chase's Restaurant in this Louisiana Legends interview with host Beth Courtney.
To see more stories from our Food & Drink topic, click here.