Spotlight on History
Louisiana Legislature in the 1980s
5/1/2023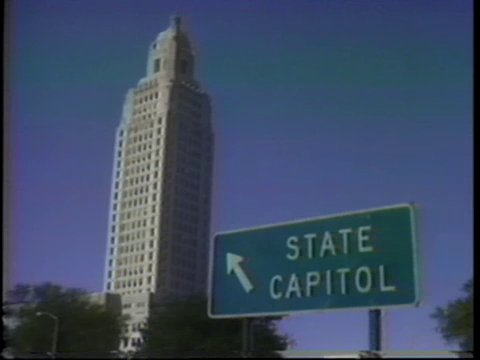 With the 2023 Legislative Session well underway, we are taking a look back at some of the major issues tackled by the Louisiana Legislature in the 1980s. During the administrations of Governors Dave Treen, Edwin Edwards, and Buddy Roemer, the state budget took center stage due to the significant loss of state revenues during the oil bust. State legislators also debated important legislation in the areas of education, the environment, labor and management, and fiscal reform. Check out Louisiana: The State We're In's comprehensive coverage of these issues:

Watch a panel discussion following Treen's first session with Senate President Michael O'Keefe, Speaker John Hainkel, and Sonny Mouton, Treen's executive counsel.

View a report on the hearing and expulsion of State Senator Gaston Gerald, the first expulsion in the history of the Louisiana Legislature.

See a report on the Senate Education Committee hearing on a bill requiring public schools to teach creation science in equal time with the theory of evolution.

Watch the dramatic testimony of political rivals Dave Treen and Edwin Edwards on the controversial Coastal Wetlands Environmental Levy (CWEL).

View a report on the passage of a bill creating the Louisiana Department of Environmental Quality (DEQ) to manage the state's environmental issues.

See a report on the unsuccessful effort to repeal right to work, one of the most contentious legislative issues of the 1970s.

Watch a report on the problems facing the state's education system and the reforms under consideration at the 1985 legislative session.

View a report on Governor Edwin Edwards' call for a public referendum legalizing casino gambling in New Orleans and a statewide lottery.

Watch a panel discussion with capitol reporters discussing the major issues at the session, an annual highlight of LPB's legislative coverage.

See a report outlining Governor Buddy Roemer's tax reform plan, which was eventually defeated in a statewide election by voters.

View a report discussing state legislators' high frustration level with Governor Buddy Roemer and his handling of the $702 million state budget deficit.