Spotlight on History
Mardi Gras
1/1/2018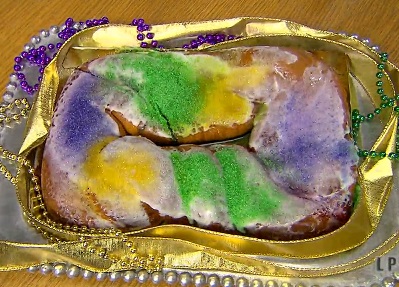 January 6th marks the official start of Carnival season in Louisiana! From now until Fat Tuesday on February 13th, we'll be highlighting our Mardi Gras stories on the LDMA. From the traditional New Orleans Mardi Gras to the Courir de Mardi Gras in Cajun country and everywhere in between, check out the different ways that Louisianans have celebrated this unique holiday through the years. Laissez les bon temps rouler!
New Orleans

View the 1941 Mardi Gras Night Pageant of the Krewe of Proteus.

Due to the New Orleans Police Strike in 1979, there were no official Mardi Gras celebrations in the city of New Orleans. See clips of the jazz funeral in the French Quarter that was held instead.

Tour the headquarters of Blaine Kern's Mardi Gras World as they prepare floats for the 1984 parades. You can also watch a 1996 Louisiana Legends interview with Kern.

Enjoy a profile of Darryl Montana, the Chief of the Yellow Pocahontas Mardi Gras Indian Tribe.
Courir de Mardi Gras

Follow a group of riders on horseback as they move from house to house gathering the ingredients for a communal gumbo.

See a profile of Lou Trahan, a Mardi Gras mask maker from Mermentau.

Enjoy a video postcard from the Mardi Gras celebrations in Mamou.

Check out a profile of artist Herb Roe of Lafayette and his paintings of the Courir de Mardi Gras.
Around Louisiana

See a 1983 story on the growth of Mardi Gras celebrations in small communities around Louisiana, including Denham Springs.

Learn more about the history of the lawnmower drill team at the Spanish Town Parade in Baton Rouge.

See the costumes on display at the Mardi Gras Museum, located in the Central School Arts & Humanities Center in Lake Charles.
---
To see more stories, check out the complete Mardi Gras topic.