Spotlight on History
New on the LDMA: Savor the Regions
6/25/2018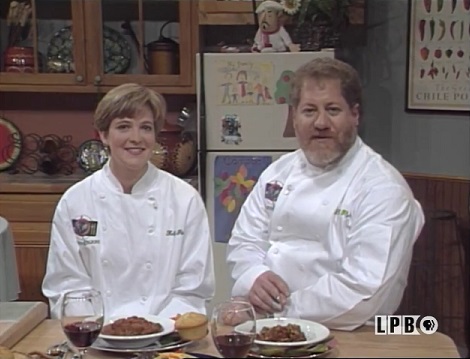 The first two seasons of the LPB cooking series Savor the Regions from 1995 and 1996 are now available for streaming on the LDMA! This series promised to provide healthy recipes for "Gourmet Food without the Guilt." Chef D.C. Flynt of Lake Charles hosted the first two seasons of the series. In season two, he was joined by Chef Kelly Patrick of the Pennington Biomedical Research Center in Baton Rouge. Each season focuses on recipes inspired by a different region of the United States and includes fun visits to the region.

See Chef Flynt cook California-inspired dishes. You can also enjoy visits to San Francisco landmarks, like Fisherman's Wharf and the Ghirardelli Chocolate Factory, as well as tours of the wineries and vineyards in Sonoma Valley.

Watch Chef Flynt and Chef Patrick prepare spicy Southwestern-style recipes and visit fun places in Arizona, including a trail ride at the El Rojo Grande Ranch, Boulders Resort & Spa, and the Santa Cruz Chili & Spice Company.
Thanks to D.C. Flynt & Jane Flynt for helping LPB to preserve this series! If you are interested in helping us to preserve more of our collection, please Contact Us for more information.