Spotlight on History
Remembering Ernest Gaines
11/12/2019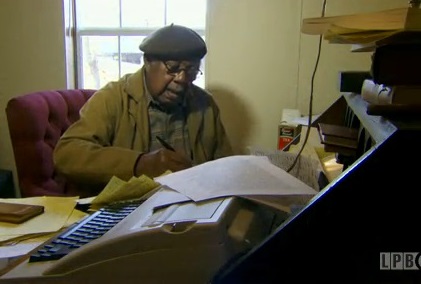 We are remembering Louisiana author Ernest Gaines, who died last week at age 86. Gaines, a native of Pointe Coupee Parish, was the author of several novels, including The Autobiography of Miss Jane Pittman and A Lesson Before Dying. He also served as a writer-in-residence at the University of Louisiana at Lafayette. Gaines was awarded with the National Humanities Medal in 2000 and the National Medal of Arts in 2013. Here are a few of our best stories on Ernest Gaines:

Watch Gaines discuss growing up on River Lake Plantation, moving to California as a teenager, and his writing career in this interview with host Gus Weill.

See Gaines discuss his inspiration for The Autobiography of Miss Jane Pittman and his writing process in this interview from Folks.

View Gaines' speech accepting his recognition as a Louisiana Legend at the inaugural gala.

In this documentary on his life and career, watch Gaines share memories of the people of the Quarters on River Lake Plantation in Pointe Coupee Parish that inspired his novels.

See highlights of The Sky is Gray: Visual Works Inspired by Ernest Gaines exhibit at the LSU Gallery of Art in Baton Rouge.

View Beth Courtney's interview with Gaines on A Lesson Before Dying for the One Book, One Community program in East Baton Rouge Parish.

Watch Charlie Whinham's interview with Gaines as he reminiscences about his career and shares his plans for his final resting place. Watch part 2 here.

See Gaines read an excerpt from his novella The Tragedy of Brady Sims at the award ceremony for the Ernest J. Gaines Award for Literary Excellence in Baton Rouge.