Spotlight on History
Remembering Jimmy Fitzmorris
7/1/2021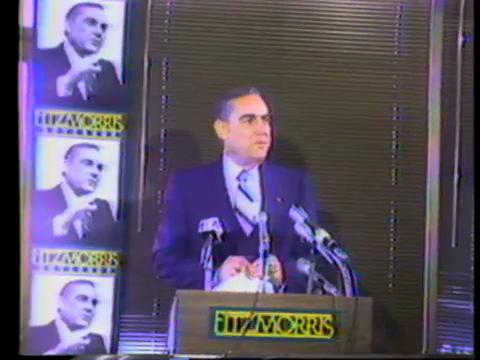 We're remembering former Lieutenant Governor Jimmy Fitzmorris, who has died at age 99. Fitzmorris, a native of New Orleans, served on the New Orleans City Council from 1954-1966. He later served two terms as Louisiana's first full-time lieutenant governor from 1972-1980. Fitzmorris was a candidate in 1979 gubernatorial election and the 1983 lieutenant gubernatorial election. Here are a few of our best stories on Lieutenant Governor Fitzmorris:

See Lieutenant Governor Fitzmorris' speech during the dedication of WLPB on the floor of the Louisiana House of Representatives.

Watch Fitzmorris participate in LPB's first live debate featuring the nine candidates running in the 1979 gubernatorial election.

View Beth Courtney's profile of Lieutenant Governor Fitzmorris on the eve of the primary election on Louisiana: The State We're In.

See Louisiana: The State We're In's coverage of the results of the 1979 gubernatorial primary election, including Fitzmorris filing a lawsuit alleging voting irregularities.

Watch a Louisiana: The State We're In report on the 1983 run-off election for Lieutenant Governor between Fitzmorris and Bobby Freeman, the incumbent.

View highlights of Fitzmorris' 90th birthday party on this clip from Louisiana: The State We're In.

See a panel discussion on the role of the Lieutenant Governor's Office, including an interview with Fitzmorris prior to the discussion.
To see more stories on Lt. Gov. Fitzmorris, click here.