Spotlight on History
Remembering Ted Jones
8/16/2019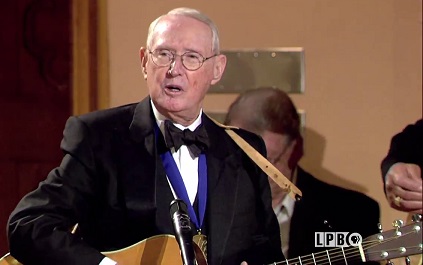 We're remembering Ted Jones, a 2018 Louisiana Legend, who died earlier this week at age 85. Jones, an alumnus of Northwestern State University in Natchitoches, played guitar on the Louisiana Hayride and in Governor Jimmie Davis' band. He was also an attorney, lobbyist, and the chairman of the Mystick Krewe of Louisianans, the organizers of the Washington Mardi Gras Ball. Here are our videos on Ted Jones:

Watch Ted Jones, former State Representative Jimmy Long, and Russell Mosely, the great-grandson of Huey Long, discuss the legacy of the Long Family in Louisiana.

View a profile of Ted Jones and his speech accepting his recognition as a Louisiana Legend at the 2018 gala. He also performs You Are My Sunshine.

See Ted Jones discuss his life and careers in music and politics in this Louisiana Legends interview with host Beth Courtney.